The "Getting Started Survey" is the first step. It's free with no obligation.
We will review your answers and get back to you within 48hours with:
Keyword Analysis Report
Website Analysis Report
Competitive Website Analysis Report
A Next Steps Strategy or Walkthrough
Cheers!
Chris Trezise, Team Leader
Getting started with a digital marketing strategy

WHAT IS A DIGITAL MARKETING STRATEGY
A small business digital marketing strategy involves utilizing cost-effective digital channels such as social media, search engine optimization (SEO), email marketing, and content creation to reach and engage with target customers, drive online visibility, and generate leads.

WHY IS A DIGITAL MARKETING STRATEGY BENEFICIAL FOR SMALL BUSINESSES
A digital marketing strategy is highly beneficial for small businesses as it offers cost-effectiveness, targeted reach, increased online visibility, improved customer engagement, measurable results, and the flexibility to adapt to changing market dynamics, helping them compete effectively and achieve their marketing goals in today's digital landscape.

A DIGITAL MARKETING STRATEGY IS BUDGET AND TIME FLEXIBLE
Small businesses can start with a modest budget and gradually increase it as they see positive results. They can also optimize their strategy by focusing on specific channels and tactics that yield the best return on investment (ROI) and allocate resources accordingly.

HOW DOES A DIGITAL MARKETING STRATEGY PROMOTE ENGAGEMENT
A digital marketing strategy promotes engagement for small business prospects by leveraging social media interaction, personalized content, and interactive formats to actively involve prospects, foster meaningful connections, and encourage their participation, ultimately building relationships and driving conversions.

YOU CAN DEVELOP TRUST THROUGH A DIGITAL MARKETING STRATEGY
A digital marketing strategy addresses the trust problem by leveraging customer reviews, testimonials, and social proof to showcase positive experiences and build credibility. Additionally, transparent communication, valuable content, and secure online transactions help establish trust by demonstrating authenticity, expertise, and a commitment to customer satisfaction.

DIGITAL MARKETING STRATEGY ARE EASIER FOR SMALL BUSINESSES
Digital marketing strategies are easier to follow for small businesses than traditional marketing due to their cost-effectiveness, precise targeting, and measurable results, enabling efficient resource allocation and optimization. Additionally, the flexibility and enhanced customer engagement provided by digital marketing platforms allow small businesses to adapt quickly, refine their strategies, and build relationships with their target audience more effectively.
Your Digital Marketing Starter Kit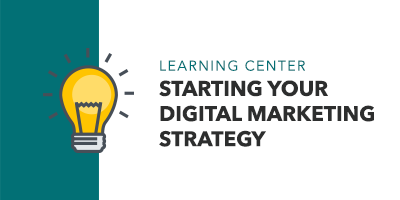 20 ways to use podcasts to build online content strategy and engage with a small business audience...